If anyone wishes to place a notice on our bulletin board, or respond to one already here, please contact us at:

Please Note: The graphic above is not a clickable link. You have to type the address into your e-mail. We are forced to do this to prevent our e-mail address being harvested by spiders and robots which use them for the distribution of spam and for other illegal purposes.

Notices on this Bulletin Board are removed after five or six months from date of posting
unless the author specifically requests an extension.

Unidentified Photos from Brochet

[The following is an excerpt from a note received with the Unidentified Photos of RCSigs Station Brochet]

"These photos were taken sometime during the early winter months of 1950 at VEZ Brochet. They were taken by someone who flew up to Reindeer Lake to do a story for the Northern Lights Magazine on commercial fishing on there. It appears from the photographs that this group of people from Flin Flon ended up over-nighting at Brochet (perhaps at the Sigs Station accomodations) and then returned to Flin Flon. The Northern Lights magazine was, and still is a magazine that was produced internally by the Hudson Bay Mining and Smelting Company in Flin Flon, Manitoba for their staff. They used to do feature length articles on people and places in the region as well as lots of internal staff "goings on".

"The negatives now belong to Frank Fieber who publishes the North Roots Magazine here in Flin Flon. When I saw these photos that I am sending to you, I had asked Frank about sending you copies so that you could post them on your web-site for general public interest and hopefully identify the people in them". --- Les Oystryk

TO VIEW PHOTOS GO TO: UID PHOTOS PAGE 6
---

Query re Copyright. Seeking Jack Girard

Hello,

My name is Karen Mackenzie, and I am a communications officer with Aboriginal Affairs and Northern Development Canada in Iqaluit, Nunavut.

One of my client files is the Contaminated Sites Division, which is currently working to remediate a number of contaminated or abandoned sites across the territory, including the old Ennadai Lake Weather Station.

Every couple years we publish a book called The Big Picture which is distributed to Nunavut residents to inform them about what sites the Contaminated Sites Division has, will be, or is in the process of remediating. The Ennadai Lake Weather Station will be included in this year's edition.

We would love to include a couple of the archival shots from your website (http://www.nwtandy.rcsigs.ca/stations/ennadai.htm), particularly the top photo courtesy of Jack Girard (RC Sigs Station Ennadai Lake, NWT - 1952). Is there any way we can get in touch with Mr. Girard, to see if we could include it? We have been striving to include historical photos of sites where we can, because we think this will be of interest to some of the territory's older residents.

Thank you in advance for any assistance you can provide. And let me know if you have any questions!

Sincerely,

Karen Mackenzie
Senior Communications Officer,
Nunavut Regional Office

Aboriginal Affairs and Northern Development Canada (AANDC)

Qimugjuk Building, 2nd Floor
PO Box 2200
Iqaluit, NU X0A 0H0
Phone: 867-975-4742
Fax: 867.975.4560

Ed. Note: If anyone is in touch with Jack Girard would you please ask him to contact us regarding permission to use his photograph.

From: Calvin and Patti Sikstrom
Date: April 27, 2011 3:26:01 AM NDT
Subject: KAZAN RIVER -- ENNADAI LAKE SIGNALS STATION
To:
Honourable Jim Prentice, Minister of Environment
Honourable John Duncan, Minister of Indian Affairs and Northern Development
Honourable Christian Paradis, Minister of Natural Resources
cc. Nunavut Minister of Environment, Daniel Shenchuk
Re. Ennadai Lake Signals and Weather Station, Nunavut

Dear Sirs,

VEJ - Ennadai Lake is a former RC signals radio station (1949-1954), which operated as a weather station under the Department of Transport for many years after 1954. At present there is an automated Environment Canada weather station on top of the hill at the site.

The signals site presents safety and environmental hazards to people and animals that are affected by the old buildings, equipment, fuel, lubricants and chemicals that have been abandoned there. It seems that there has been little effort to stabilize, cleanup, and warn the public of the present dangers. There is also an opportunity to inform the public of the historical significance of the site, but no interpretive signs were there when I visited last year.

A brief history of the site can be found at http://www.nwtandy.rcsigs.ca/stations/ennadai.html Recent photos from 2008 and 2006 can be viewed at
* an NWT and Y History Project - Ennadai Station_2008 http:/www.nwtandy.rcsigs.ca/stations/ennadai_08a.html
and
* photos by Chris Paradis http://www.nwtandy.rcsigs.ca/stations/ennadai_3.html

Some photos from the visit mid July 2010 visit to the site are also attached as an on-line album (CBS Sikstrom photos and DSC series photos by P. K. Jensen). The photos show the general condition of the site and some specific locations where there is ground staining due to hydrocarbon spillage/leakage and a storage area with many drums near the lake shore. My fellow paddlers and I observed occasional drums for many kilometres downstream of Ennadai, on the lake shore and Kazan River banks, as we paddled to Baker Lake. Original 1974 weather records were also found in the living quarters and I do not know whether this is lost information or not. I have been unable to find corresponding digitized records in The National Climate Data and Information Archive for the Ennadai Station.

I have reviewed the 1990 Canadian Heritage River System (CHRS) Management Plan for the Kazan River and see that the initial Heritage desgination only went as far upstream as the outlet of Ennadai Lake. I also have a copy of the Kazan Heritage River Ten Year Review. The Ten Year Review does not check "Military Jurisdictional Use" as a primary value, or mention the prescence of the Ennadai Lake Signals Station as a cultural site. However the Review did recommend that the CHRS corridor should be extended upstream approximately 100 kilometres to the N.W.T./Nunavut border. Was this recommendation for extension of the corridor accepted? Has the Twenty Year Review Plan been completed?

As a National Heritage River, the Kazan is deserving of better care and attention. The Ennadai Station had an important economic and cultural influence on the Caribou Inuit during the critical relocation period of their lives (Laugrand et al. 2009 and 2009). Including the Ennadai Station in the Kazan River management plan would help conserve the heritage values of this important site in the history of the Caribou Inuit, so that the public can better understand what occurred, and enjoy the wilderness values of the Kazan River.

I look forward to your attention to this matter, and an update on the status of the Twenty Year Review.

Sincerely,

C. B. Sikstrom, B.Sc. P. Biol.
Thelon Environment & Communications Ltd.
P.O. Box 8054 RPO Marie Lake
Cold Lake, Alberta, CANADA T9M 1N1
Phone 780 639-1258
Fax. 866 950-3094
Cell 780 812-9126

REFERENCES

Department of Economic Development and Tourism, Government of the Northwest Territorires, and Deparment of Indian and Northern Affairs of Canada. 1990. Canadian Heritage Rivers System Management Plan for the Kazan River N.W.T.

Laugrand, Frederic, J. Oosten and D. Serkoak. 2009. "The saddest time of my life': relocating the Ahiarmiut from Ennadai Lake (1950 - 1958). Polar Record. 46(237):113-135 (2010)

Laugrand, Frederic, J. Oosten and D. Serkoak. 2009. Relocating the Ahiuarmiut from Ennadai Lake to Arviat (1950 - 1958). INALCO 2009. Proceedings of the 15th Inuit Studies Conference, Orality, (Paris, 2006) http://www.inuitoralityconference.com/art/Laugrand.pdf

Nunavut, Department of Sustainable Development, Parks and Tourism Division. 2000. Kazan Heritage River: Ten Year Review.

Canadian Marconi GP-15 Transmitter/Receiver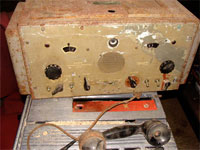 For larger image and specifications click on the image above.
If anyone has knowledge of this equipment please get in touch with:
Jerry Proc VE3FAB
E-mail: jerry.proc@sympatico.ca
Web: http://jproc.ca

From: cchin01@yorku.ca
Date: January 20, 2011 3:17:19 PM NST
To: versutus@rcsigs.ca
Cc: amaclenn@yorku.ca
Subject: Remembering Radio Project, York University

Good afternoon,

My name is Cassandra and I am a research assistant writing on behalf of Professor Anne MacLennan of York University. She is currently conducting a study on Canadian Radio in the 1930s through a Canadian government sponsored research grant. We are searching for participants who are 78 andolder, and would be interested in speaking to us about their memories andstories about the radio.

I understand that aside from shortwave radio and two-way HF, radio was limited during the 1930s but our questions would focus on how the development of the radio changed (or didn't) the lives of those living there.

The reason why I'm contacting you is to see if you may be able to assist us within Northwest Territories. As this is a national study, we are continuing to look out for a larger representative number from seniors living in the area.

This email should outline everything about the Remembering Radio project. We've attached a bulletin to this email that outlines the project and contains our contact information if you would like to display it on a bulletin board.

If anyone is interested in participating, feel free to contact any of the team members listed on the webpage. If you can place us in touch with resident members, please send us their contact information.

For more information, please visit our website at rememberingradio.yorku.ca

Thank you very much for your time and consideration, we really appreciate it.

Best,
Cassandra

To view poster go to York U page

Consider a Donation or a Bequest

What's going to happen to Grampa's picture album when he is gone?

Who has any interest in pictures of people and places that they don't know anything about? Aside from family pictures, where is the interest in hanging on to old photographs that bring no memories or make no connections to the past?

Too many times in making enquiries about the possibility of photographs of an old soldier we learn that no one knows what happened to them. They went somewhere to be tucked away - and were forgotten and eventually thrown away. Old treasures becoming useless junk because there is no longer any personal connection. It happens more often than most people realize.

Old photographs are an invaluable records of past events, changing landscapes, evolving communities and technologies. To historians and archivists old forgotten photos can be goldmines - if they have been properly preserved and identified. Even those that are damaged or faded with time can be repaired and revived through the new techniques of digital imagery.

If you have no further use for Grandfather's old photos you should consider donating them to a museum, or to a national, provincial or community archive.

If you care at all about what will happen to your memory treasure-chest, and want to protect them for prosperity, there are secure repositories where they would be most welcomed, and where they would be available to future generations.

If you have photos relating to the Royal Canadian Signal Corps, and in particular the NWT&Y Radio System, please get in touch with us either at the Military Communications and Electronics Museum in Kingston, or here at the History Project. We would be delighted to receive your old albums, or copies of the photographs and other related documents and artifacts.

Contact us by e-mail at the address above or write to the curator of the museum at:

Military Communications and Electronics Museum
Box 17000, Station Forces
Kingston ON,
Canada
K7K 7B4
Velox Versutus Vigilans